Description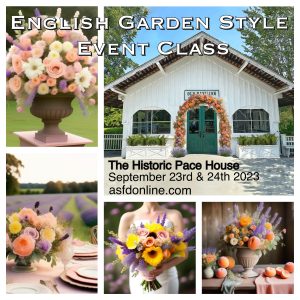 LEARN ARRANGING FLOWERS IN THE TRENDY ENGLISH GARDEN STYLE
Class Focus is on a Wedding, but every element taught here adapts to any event.
The Historic Pace House in Vinings
3057 Paces Mill Rd SE, Atlanta, GA 30339
Click here for directions:
https://goo.gl/maps/ucrgBnogaN4PhA2h9
September 23rd (Saturday) & 24th (Sunday)
10AM until 4PM Each Day
Day 1
Lush Garden Arch (Group Workshop)
Stylized Hedge-Style Aisle (Group Workshop)
Large Welcome Arrangements (Demonstration)
Hand-Tied Bouquet (Hands-On)
Day 2
Hanging Installation: Florals & Baskets (Group Workshop)
Estate Table Setting: Including Garland Demo (Demonstration/Workshop)
Cake Setting: Fantasy Style Setting (Group Workshop)
Garden-Style Centerpiece (Hands-on)
This Workshop/Hands-On Class will be held at The Historic Pace House in Vinings and will be conducted by
Don Chestnut of The Atlanta School of Floral Design and Kounew Del Leon of Designs By Her
Everything you need will be provided for your participation in the classes.  Most of the flowers used in these classes are fresh and
we will also show you how to work with smaller budgets by using some dried as well as artificial florals.
The floor will be open to any and all question during the entire class, so be sure and write down any you have.
Please wear close-toed shoes and do no wear any flowing clothing.
This is a "real work" environment where sharp tools, flowers with thorns and possible ladder work will be involved.
Lunch will be provided.
We must have at least 5 Students to produce this class, so please sign up soon!
Cut-off for Registration is 3 Days prior to the first class date.
We look forward to you becoming a part of our Creative Family!
Creatively yours,
Don & Kounew
If you have any questions PLEASE TEXT
Don at 404-422-0793